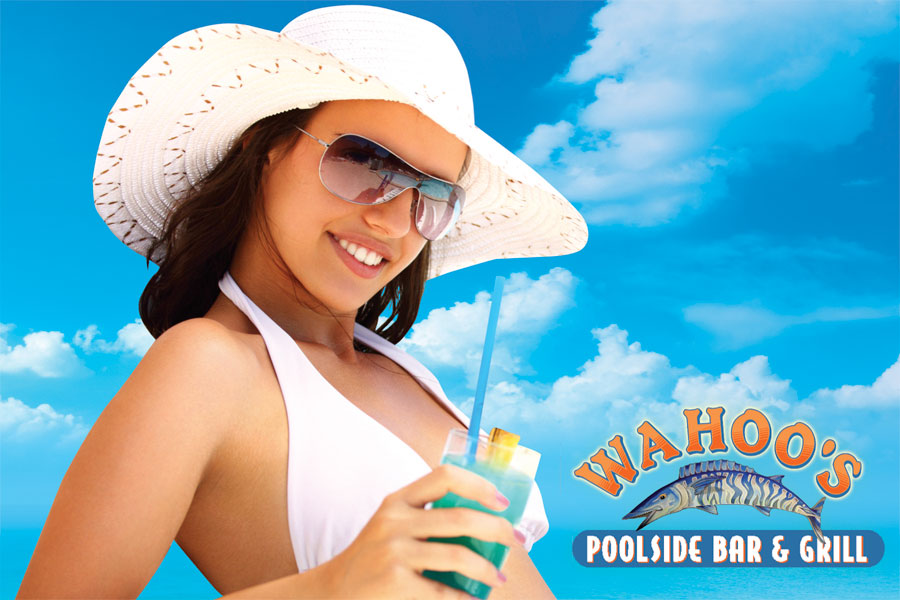 Biloxi's coolest little watering hole, Wahoo's Poolside Bar & Grill, is now open daily! The outside bar & grill is open Sunday through Thursday 11AM – 9PM and Friday & Saturday 11AM – 10PM.
Known as Home of the Coast's Best Bushwhackers, Wahoo's will feature its popular $15 nightly dinner specials Tuesday through Friday from 4PM – 8PM or while it lasts. The Tuesday night special includes 3 pounds of boiled shrimp, corn and potatoes. Wednesday's special is 5 pounds of boiled crawfish, corn and potatoes. Enjoy an 8 ounce New York strip with fried shrimp and French fries during Thursday night's Biloxi Surf & Turf special. On Friday evening, it is all you can eat catfish served with hushpuppies, fries and coleslaw.
Enjoy live entertainment on Fridays and Saturdays 7PM – 10PM and Sundays 6PM – 9PM, beginning May 25th. The lineup for May includes State of Mind on May 25, Cheri & Pete on May 26, Eugene Eash on May 27 and Hank Berumen on Memorial Day, May 28.
Wahoo's was recently awarded a Covey Award for 'Best Outdoor Boat Friendly Venue' by the readers of Coast Observer entertainment newspaper. The outdoor bar and grill, overlooking the marina at Palace Casino Resort, is the perfect place to unwind after work The bar serves cold beer, cocktails and non-alcoholic beverages. Palace Casino Resort's beautifully landscaped pool area provides an oasis with incredible views of the Palace Marina and Biloxi's Back Bay.
Gather your friends and meet for Happy Hour, from 5PM to 6PM daily, for beer and drink specials and everyone's favorite $1 shrimp tacos. Summer is here, so come relax and enjoy the breezes of Biloxi's Back Bay at Wahoo's Poolside Bar & Grill, only at the Palace Casino Resort.
---
---
Leave A Comment