Pair with Our Hotel
If you are looking to have an amazing night out, pair one of our restaurants with a hotel stay. You can dine, play, and stay easily with the Palace Casino Resort. Book directly and save.
Home
>
Restaurants
>
Mignon's Steaks & Seafood
Mignon's Steaks & Seafood
---
HOURS
THURSDAY – SUNDAY
5:00pm – 10:00pm
Mignon's Steaks & Seafood, the Mississippi Gulf Coast's premier fine dining restaurant, is dedicated to creating an enchanting meal with unparalleled attention to detail, extraordinary service, and delectable cuisine, sure to please even the most discriminating palate.
Mignon's has received Wine Spectator magazine's Award of Excellence for thirteen consecutive years. Make plans to experience extraordinary dining at Mignon's Steak & Seafood, open for dinner every Thursday through Sunday. Make a reservation online or call 228-432-8888 to make your reservation.
---
View Wine List
Enter your email address below to join the Mignon's Steaks & Seafood email list! We will send you regular updates about exciting events and special offers!
View Menu
Dress Code
Gentlemen: Long pants, collared shirts and closed toe shoes are expected.
Ladies: Dresses, skirts & blouses, capris, dress sandals are expected.
Share This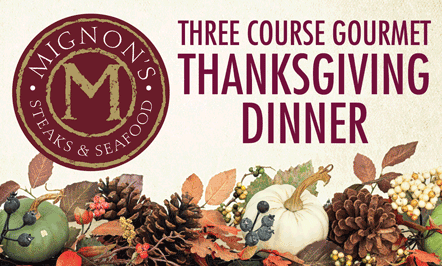 Thursday, November 25
Noon – 6 PM  $45 per person
First Course
Fall Harvest Salad
OR
Roasted Corn & Crab Bisque
Main Course
Sous Vide Hertiage Turkey Breast
Andouille Corn Bread Dressing, Roasted Garlic Mashed Potato, Pan Gravy, Cranberry Sauce, Brussel Sprouts with Balsamic Glaze
Dessert
Apple-Pumpkin Galette
Maple Ice Cream, Pumpkin Spice, Toasted Pecans
(228) 432-8888 or reserve at OpenTable.com
Dine in only. No substitutions or split plates. A La Carte Menu also available. Limited reservations available. Price excludes tax & gratuity.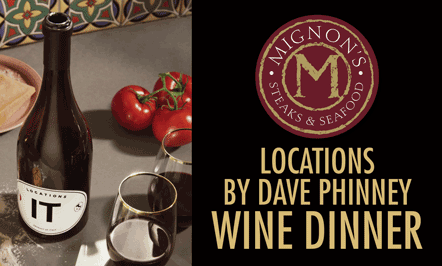 Thursday, November 18
7 PM
$89 Per Person
Five course gourmet dinner paired with Locations by Dave Phinney wines.
First Course
Tabouli Salad: Goat Cheese Feta, Bulgur, Cucumber, Romaine Hearts, Tomato, Herbs, Lemon, Olive Oil
Paired with Locations NZ Sauvignon Blanc

Second Course
Panzerotti: Ricotta, San Marzano Tomato, Italian Sausage, Basil, Balsamic Glaze
Paired with Locations I Red Blend
Third Course
Chicken, Wine & Dumplings: Bacon, Pearl Onion, Joyce Farms Chicken
Paired with Locations F Red Blend
Entrée
Filet Mignon Medallions: Prosciutto, Garlic Parmesan Crust, Shoestring Fries, Root Vegetable Puree
Paired with Locations CA Red Blend
Finale
Triple Berry Napoleon: Puff Pastry, Grand Marnier, Diplomat Cream
Paired with Locations F Rose

Call (228) 432-8888 Thursday – Sunday after 5 PM.
Price excludes tax & gratuity. Limited seating.