Pair with Our Hotel
If you are looking to have an amazing night out, pair one of our restaurants with a hotel stay. You can dine, play, and stay easily with the Palace Casino Resort. Book directly and save.
Home
>
Restaurants
>
Mignon's Steaks & Seafood
REOPENING THURSDAY, JUNE 18!
Mignon's Steaks & Seafood
---
HOURS
THURSDAY – SUNDAY
5:00pm – 10:00pm
Mignon's Steaks & Seafood, the Mississippi Gulf Coast's premier fine dining restaurant, is dedicated to creating an enchanting meal with unparalleled attention to detail, extraordinary service, and delectable cuisine, sure to please even the most discriminating palate.
Mignon's has received Wine Spectator magazine's Award of Excellence for thirteen consecutive years. Make plans to experience extraordinary dining at Mignon's Steak & Seafood, open for dinner every Thursday through Sunday. Make a reservation online or call 228-432-8888 to make your reservation.
---
Enter your email address below to join the Mignon's Steaks & Seafood email list! We will send you regular updates about exciting events and special offers!
View Menu
Dress Code
Gentlemen: Long pants, collared shirts and closed toe shoes are expected.
Ladies: Dresses, skirts & blouses, capris, dress sandals are expected.
Share This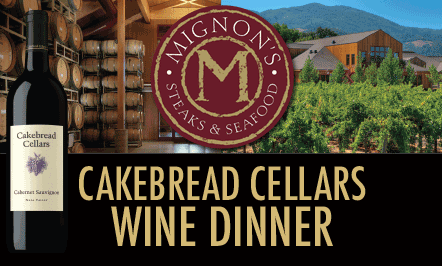 Thursday, January 28
7 PM
$120 Per Person
Five course gourmet dinner paired with wines from Cakebread Cellars.
FIRST COURSE
Bibb Salad: Heirloom Cherry Tomato, Roasted Walnuts, Honey Dressing, Carrot
Paired with Cakebread Cellars Chardonnay, Napa Valley

SECOND COURSE
BBQ Shrimp & Grits: Brown Shrimp, White Cheddar, Shallots, Worcestershire
Paired with Cakebread Cellars Two Creeks Pinot Noir, Anderson Valley
THIRD COURSE
French Onion Soup: Gruyere Gratin, Madeira
Paired with Cakebread Cellars Merlot, Napa Valley
INTERMEZZO
Sorbet & Champagne
ENTREE
Surf & Turf: Beef Tenderloin, Lobster Bites, Sauce Choron, Roasted Brussels Sprouts & Fingerling Potato
Paired with Cakebread Cellars Cabernet Sauvignon, Napa Valley
FINALE
Mixed Berry Tart: Blueberry, Blackberry, Raspberry, Strawberry, Mascarpone
Paired with Cakebread Cellars Sauvignon Blanc, Napa Valley

Call Today (228) 432-8888 or reserve at OpenTable.com
Price excludes tax & gratuity. Limited seating.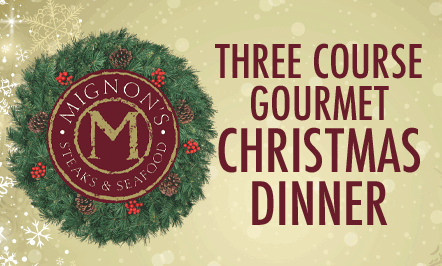 Friday, December 25
5 PM – 10 PM  $69 per person
First Course
Lobster Bisque
Maine Lobster, Sherry, Fennel, Shallot
OR
Bibb Salad
Candied Pecans, Cranberry, Baby Heirloom Tomato, Chevre, Honeycrisp Apple, Herbed Honey Dressing
Main Course Choice
Flounder Pontchartrain
Cremini Mushroom, Shallots, Asparagus, Jumbo Lump Crab, Sauce Bearnaise
or
USDA Prime Rib Roast
Apple & Cherry Wood Smoked, Roasted Garlic Mash, Au Jus, Horseradish Cream, Pea Shoot
Dessert
Gingerbread Cheesecake
Irish Whipped Cream, Cinnamon, Nutmeg, Molasses
(228) 432-8888 or reserve at OpenTable.com
Dine in Only. No Substitutions or Split Plates. Limited reservations available. Tax & gratuity not included. A La Carte Menu also available.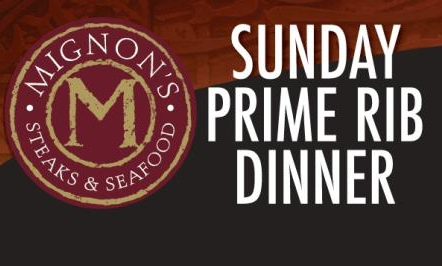 $40 per person
Mignon's steakhouse chop salad, slow roasted prime rib of beef, char-grilled asparagus, and rich, creamy vanilla bean crème brûlée.
Reservations Recommended
Call 228-432-888 or book on the restaurant page.
Price does not include tax & gratuity. No substitutions or split plates, please. Only available Sundays.