Mignon's Steaks & Seafood fine dining restaurant has once again been presented Wine Spectator magazine's Award of Excellence. The Award of Excellence 2017 was presented to Mignon's for the restaurant's continued dedication to delivering the most wine-friendly experience to its patrons. Mignon's is the only restaurant on the Mississippi Gulf Coast to receive Wine Spectator's Award of Excellence for the past twelve consecutive years.
Mignon's Steaks & Seafood is one of a select number of restaurants in the world to be honored with this prestigious recognition. The award reads, "This restaurant is honored by Wine Spectator for having one of the most outstanding restaurant wine lists in the world."  Mignon's will be listed in the magazine's annual Restaurant Awards issue available now.
Wine Spectator's Restaurant Awards recognizes restaurants whose wine lists offer interesting selections, are appropriate to their cuisine and appeal to a wide range of wine lovers. To qualify for an award, a restaurant's wine list must present complete and accurate wine information. It must include vintages and appellations for all selections, including wines available by the glass. The appearance of the list is also taken into consideration.
Wine Spectator's Award of Excellence was awarded to Mignon's for the fine dining restaurant's selection of quality producers, along with a thematic match to the menu in both price and style. Typically, the winning lists offer at least 100 selections. Mignon's Steaks & Seafood at the Palace Casino Resort offers over 300 selections of wine and an inventory in excess of 3,000 bottles.
Mignon's Steaks & Seafood, the Mississippi Gulf Coast's premier fine dining restaurant, features USDA Prime steaks and the freshest seafood on the coast. Mignon's is dedicated to creating an enchanting meal with unparalleled attention to detail, extraordinary service, and delectable cuisine, sure to please even the most discriminating palate. Mignon's is also committed to making wine an important part of the overall dining experience.
Mignon's Steak & Seafood is open for dinner Wednesday through Sunday. In addition to the a la carte menu, Mignon's offers a Prix Fixe three course dinner for only $49 per person. The current Prix Fixe menu includes your choice of corn and crab bisque or strawberry salad paired with Biloxi Surf & Turf filet mignon steak and gulf shrimp entrée, followed with Panna Cotta dessert of orange curd, fresh berries, and Grand Marnier cream. The Prix Fixe menu is available on Wednesday, Thursday and Sunday evenings from 5pm until 10pm and 5pm until 6:30pm on Friday and Saturday.
Mignon's Steaks & Seafood also features special wine events, including monthly wine socials and quarterly wine pairing dinners. On August 3, Mignon's will hold a Wine Social with samplings of 16 wines and exquisite hors d'oeuvres for only $25 per person, 6pm to 8pm.
On August 24 at 7pm, Mignon's will feature a Halter Ranch Wine Pairing Dinner. The five course gourmet meal, consisting of sweet corn caprese, cioppino, braised pork belly, filet mignon and chocolate expresso bombe, are each paired with select Halter Ranch wines with vineyard representatives on hand to educate diners on wine selections. The August 24 Wine Pairing Dinner is $80 per person, excluding tax and gratuity. Advance reservations are highly recommended. For reservations, call 228-432-8888. Mignon's is located on the second floor of the Palace Casino Resort in Biloxi, Mississippi.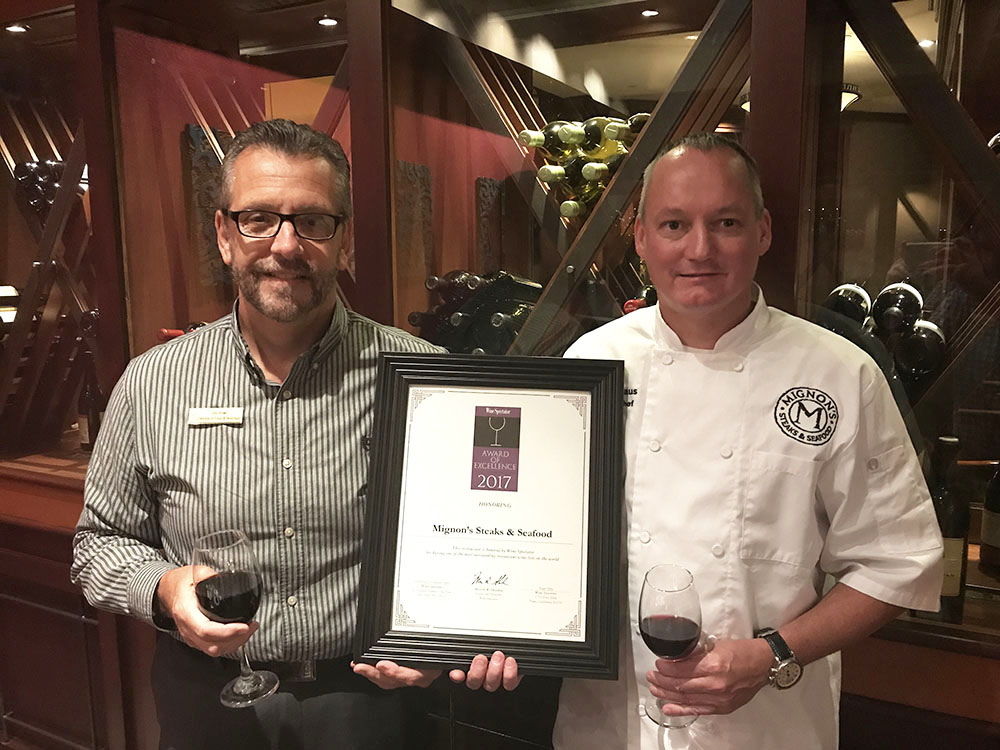 ---
---
Leave A Comment