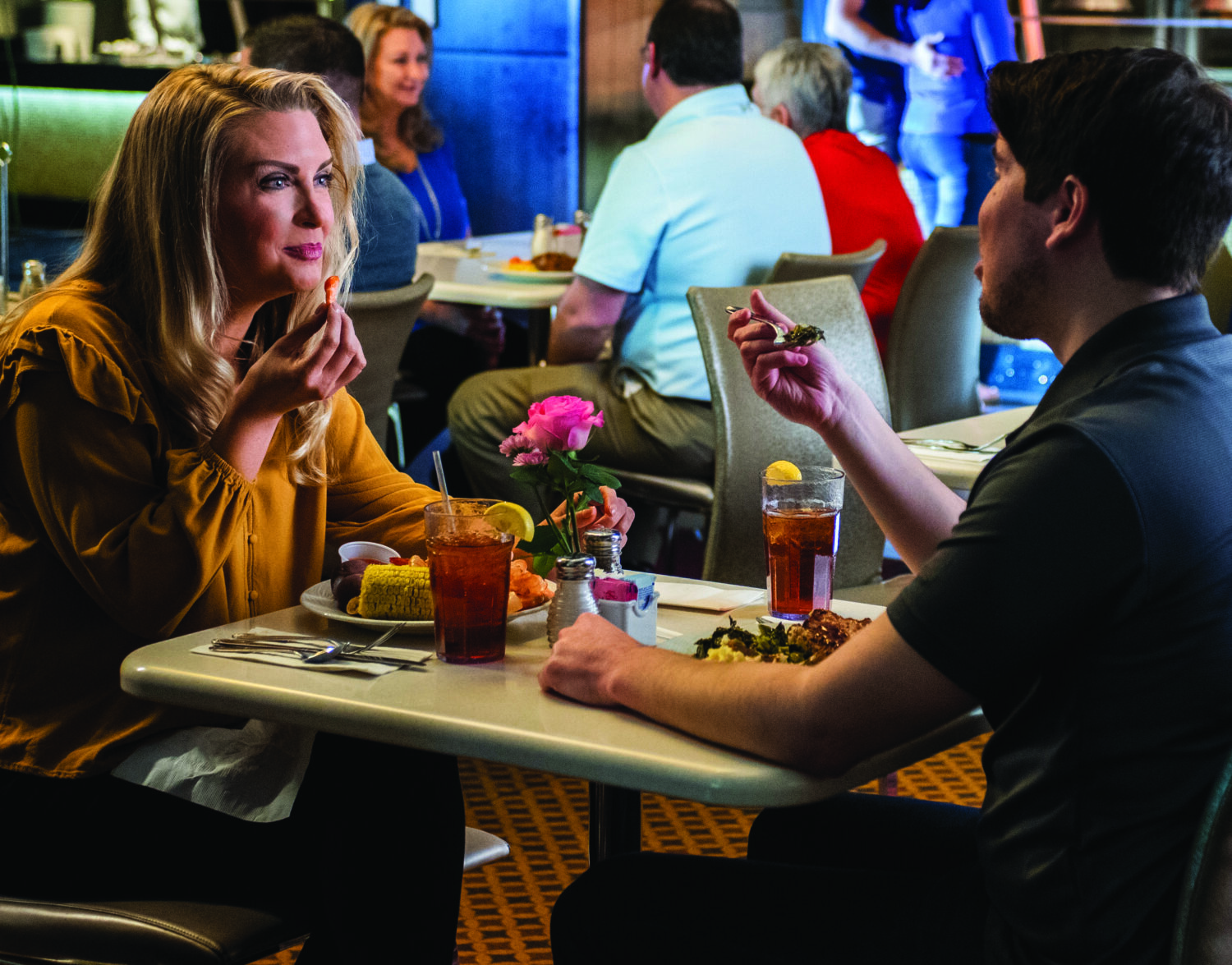 In Biloxi, wonderful dining is available through a long list of establishments, but the Buffet at Palace Casino Resort is what everyone buzzes about with its grand variety of cuisines and freshly prepared selections. Whether patrons are locals who crave a great dinner with friends or loved ones, or guests visiting from far away, the buffet-style restaurant is the best choice for dining. Everyone who visits the restaurant is sure to find extraordinary choices for dinner or lunch, and everyone who visits leaves incredibly satisfied.
Southern Staples at an Affordable Price
The Comfort section within the Palace Buffet offers all the Southern favorites visitors want. If you are seeking comfort foods, this area of the restaurant is a must for everything from fried chicken and fried okra to freshly whipped mashed potatoes, gravy and biscuits.
All the foods we love at Sunday dinners are available through this station, and everyone will enjoy the fresh-baked rolls and Southern-style veggies, prepared just like their grandma used to make. Guests will experience staples of the South and evoke memories of family dinners. Palace Buffet is definitely a crowd-pleaser.
Grill Your Own Steak
Flames is a brilliant section of the buffet-style restaurant where patrons can enjoy a delicious steak prepared according to their desired specifications. You may also choose to have us grill a chicken breast, pork chop, or carve turkey or prime rib. Ribs and all the fixins you would expect at a family cookout are available throughout this section of the buffet. All the grilled choices are healthy and provide a plentiful selection to satisfy the most finicky palettes.
Coastal Masterpieces at Palace Buffet 
The Coastal area features extraordinary dining that offers incredible seafood and treats. Freshly boiled or fried shrimp, grilled fish, seafood entrees with delicious sides, and all the seasonal crawfish guests can eat are awaiting at this station of the restaurant. Biloxi is known for its amazing selection of fresh seafood and extraordinary coastal concoctions.
Fresh Asian Cuisine
Delicious meals inspired by Asian staples offer a wonderful epicurean dining experience for all. Whether patrons crave amazing options such as beef and broccoli or want to try a variety of sushi selections, the restaurant offers an exceptional opportunity for any guest's palate. Based on the Mongolian BBQ grill concept, the WOK Your Way section at Palace Buffet offers an opportunity to customize your favorite flavors into a unique dish. Choose your meats, sauces, vegetables, spices and starch and watch the chef create an entree just for you. It's the freshest, hottest way to enjoy Asian cuisine.
End Your Meal With An Amazing Array of Desserts 
The vast selection of desserts is sure to make all guests incredibly pleased as all choices are created with the pastry chef's finest ingredients. Whether you want to keep your experience simple with a slab of melt-in-your mouth chocolate cake or try something extraordinary like bread pudding, key lime pie or crème brulée, the dessert section will keep everyone happy and complete an epic dining experience.
The Best Place for Buffet-Style Dining
The Palace Buffet at Palace Casino Resort is held as the best all-you-can-eat buffet restaurant in the state of Mississippi. The owners and workers are incredibly proud of this achievement and hope to see patrons coming into the restaurant to enjoy their brilliant selection of freshly-prepared cuisines. The business is not only one of the most popular of the Biloxi luxury hotels, but customers come from all over the country to enjoy the dining experience. Visitors can learn more about the restaurant and hotel by booking a reservation right now.
Anyone who is new to Biloxi or just passing through must take part in the brilliant menu selections at local buffet-style restaurants. The dinner choices are abundant and offer something for everyone. Visitors who come to the restaurant won't want for anything as all the cuisines they could imagine are available in one place.
Many patrons go to buffet restaurants for the wider assortment of foods, but a local restaurant in Biloxi has proven to be a force to be reckoned with and patrons are raving about the foods throughout the country.
Whenever travelers visit Biloxi for its many attractions, it's a must for everyone to dine at the Palace Buffet and enjoy exceptional dishes from comfort foods to gourmet menu options. The establishment has been honored with the title of the best buffet restaurant in the state and gives all guests something to write home about. A quick visit will give all guests a memorable experience.
---
---
Leave A Comment